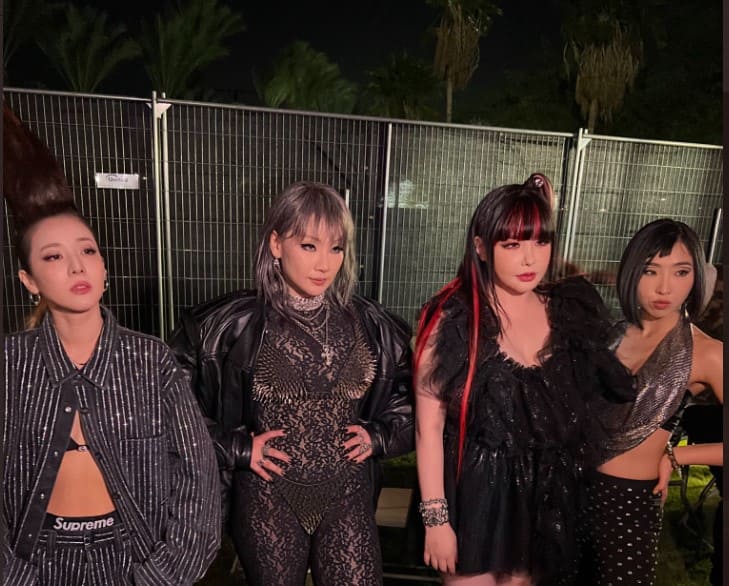 CATANFA.com/Musik – Festival Musik Coachella sering diadakan setiap tahunnya namun tidak berlaku untuk tahun 2020 karena pandemi CORONA (Covid-19). Akhirnya Coachella MusicFestival kembali diadakan pada 16 April 2022 lalu. Sebelumnya Coachella merilis beberapa lineup artis yang akan mengisi acara tersebut, salah satunya CL (mantan personil girl group 2NE1).
CL menampilkan single lagu 'Hello Bith*cs' dengan penuh energik. Namun ternyata, pada kesempatan ini CL tidak hanya bernyanyi sendirian. Coachella dan CL telah menyiapkan kejutan kepada penonton Coachella Festival 2022 dengan memboyong mantan personil 2ne1 lainnya seperti Sandara Park, Minji, dan Park Bom. Reaksi para penonton pun sangatlah meriah terdengar dari teriakan-teriakan penonton di Coachella Festival. Para ex-member 2ne1 membawakan lagu hits mereka 'I Am The Best'.
2gether again ♠♥♣♦ 2NE1 reuniting for @88rising's Head in the Clouds Forever set.

Watch the @YouTube livestream for more surprises from the desert https://t.co/369m1pEHng pic.twitter.com/R40ntMdx5L

— Coachella (@coachella) April 17, 2022
Diketahui 2ne1 sudah lama tidak eksis lagi didunia industri musik korea karena bubar pada tahun 2016 lalu. Apakah dengan kebersamaan ini mereka kembali menyatu ? Kami lansir dari Soompi (18/04/2022), mereka sering berbicara tentang keinginan untuk bersatu kembali dan membuat musik baru bersama di beberapa titik di masa depan. Namun kabar tersebut masih belum resmi, akankah mereka kembali atau tidaknya pada industri musik. Stay tune kabar terbaru mereka melalui situs kami.
Terima kasih sudah berkunjung dan membaca artikel ini. Untuk info berita dan aritkel menarik lainnya, stay tune terus di situs catanfa.com untuk update berkala.